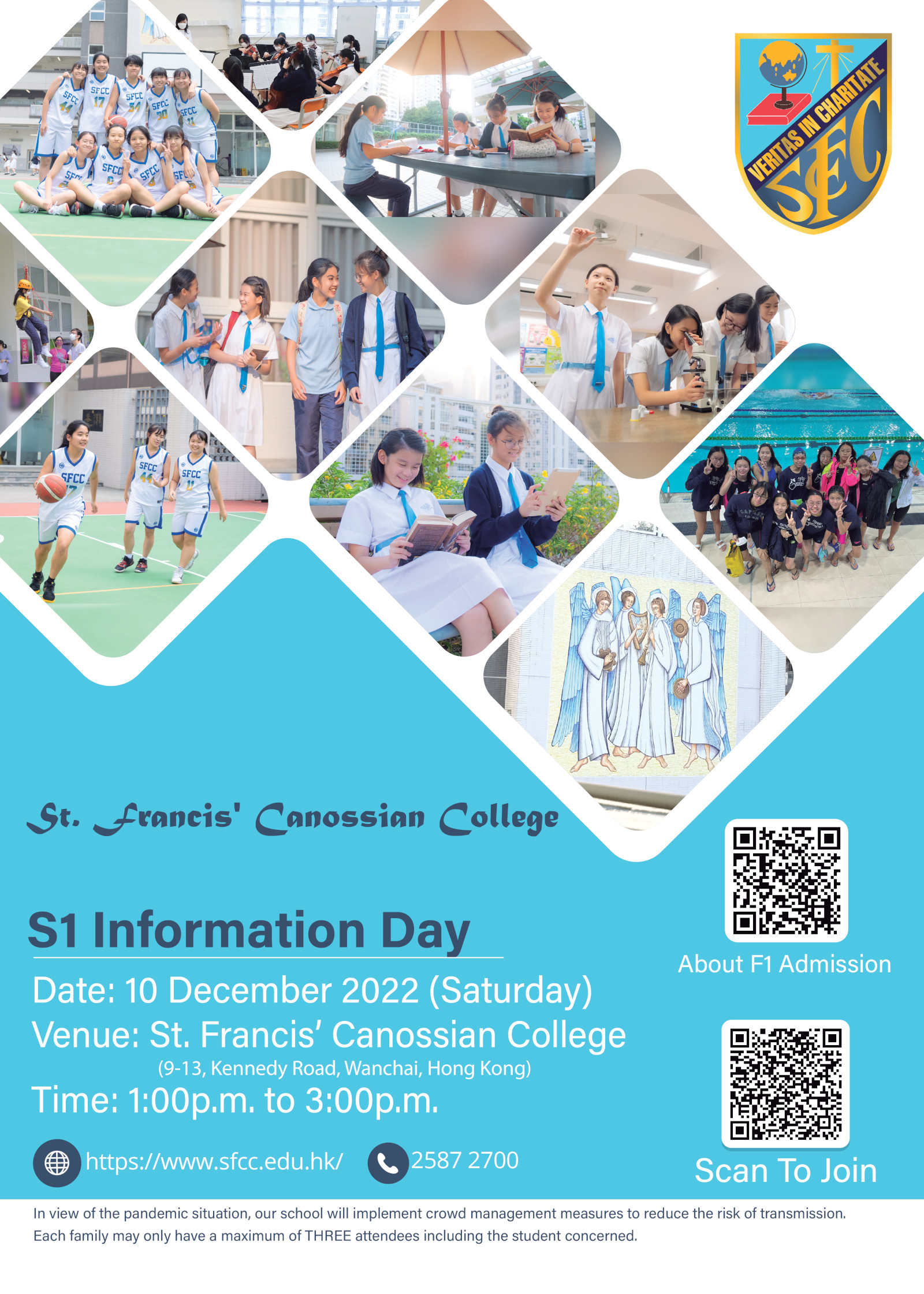 Form 1 Information Day 2022
The School Information Day will be held on 10 December, 2022. We welcome all Primary 5 and 6 students and parents to attend the admission talk alongside a campus tour. Through the programme, participants will gain an understanding of our school's vision, mission, language policy, curriculum and co-curricular activities, and the application procedures for Form 1 admission.
Details of the Admission Talk are as follows:
Date:

10 December 2022 (Saturday)

Venue:

St. Francis' Canossian College

(9-13 Kennedy Road, Wanchai, Hong Kong)

Time:

1:00 p.m. - 3:00 p.m.
Enrolment: Participants may click
here
to enroll.
Should you have any enquiries, please contact the School Office at 25872700.
In view of the pandemic situation, our school will implement crowd management measures to reduce the risk of transmission. Each family may have a maximum of THREE attendees including the student concerned. The school reserves the right to change the programme to online mode in response to the pandemic situation and guidelines given by EDB.
Please enroll by 25 November, 2022. Quota is limited and available on a first-come-first-served basis.
All visitors (including children under age 12) are required to use the "LeaveHomeSafe" mobile application to scan the QR code and present their vaccine pass upon entry.
中一入學資訊講座
為了令小學五、六年級的家長及學生了解本校的辦學理念、課程、教學語言政策、課外活動、中一收生安排及校園設施,本校將於2022年12月10日舉行中一入學資訊講座及校園導賞活動,詳情如下:
日期:2022年12月10日(星期六)
時間:下午1時至3時正
地點:灣仔堅尼地道9-13號嘉諾撒聖方濟各書院
有興趣參加上述活動的人士,請於2022年11月25日前按
此連結
報名:
根據教育局指引,為防止病毒傳播,本校將實施人流管制措施,每個家庭最多可安排三人出席,包括升中學生本人在內。名額將以先到先得方式分配,額滿即止。
因應疫情的發展及教育局的指引,校方保留變更關於資訊日的安排的權利。
如有疑問,請致電本校校務處,電話號碼:2587 2700。
為配合政府最新的防疫措施,所有訪客(包括十二歲以下的學生)必須使用「安心出行」流動應用程式掃描二維碼,並出示疫苗接種紀錄二維碼,方可進入本校。