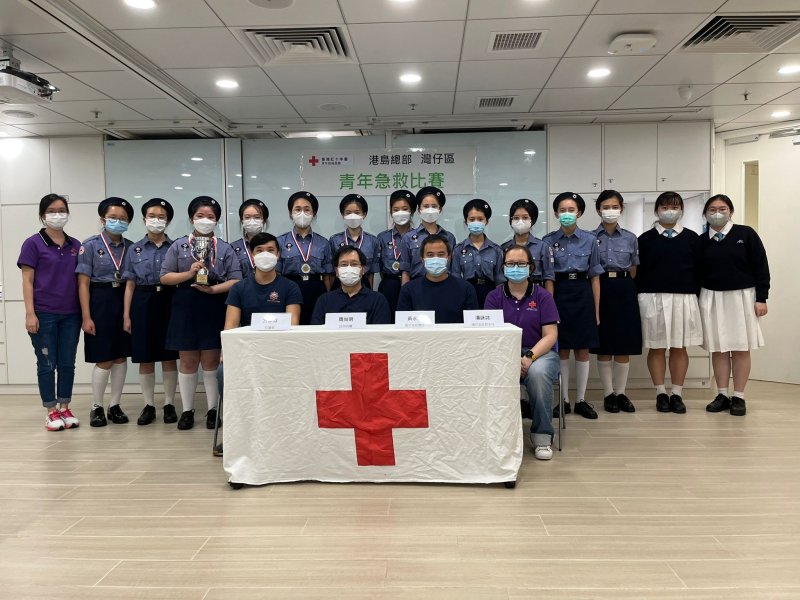 Hong Kong Red Cross (HKRC) was established in 1950. We strive for a world in which people respect and protect human life and dignity, and where people are ready to offer impartial and voluntary aid to help improve the lives of vulnerable people. As a part of the International Red Cross Movement, we dedicate ourselves to protect human life, care for the health of the vulnerable and respect human dignity. HKRC provides various types of services, such as blood transfusion, special education and rehabilitation, health and care, community care , and international disaster relief. Sorts of Departments were allocated for different types of services. Youth and Volunteer Department is responsible in managing Youth Units (units from Hong Kong secondary schools) .
In 1956, the first Youth Unit was established. I proudly present that our school was the first school to apply for the establishment of Youth Unit. We, Youth Unit One, has been participating in various types of activities. We reached our 60th anniversary in 2016 and it was such an honor to receive all the blessings from HKRC. Since 1956, Youth Unit One has been actively participating in different kinds of activities including competitions and voluntary services.
Before serving our country, we must receive basic trainings for our skills. Youth and Volunteer Department held competitions for youth members, so as to provide advanced trainings and ensure the quality of our services. Members attend training courses, which are also held by Youth and Volunteer Department and are taught by qualified instructors for their competitions beforehand. We participated in First-Aid Competition and Nursing Competition and achieved satisfying results. Most of our graduates who participated in these competitions study related subjects in university and decide to pursue occupations such as nurses, doctors and social workers. In addition, we have been participating in Drilling Competition for more than 50 years. It has been a tradition and we have developed willpower and fortitude for our self-development.
Learning these competitions, we are dedicated to provide first-aid services at school in special events including Annual Sports Day, Swimming Gala, etc. We are also responsible in flag-raising ceremonies in special occasions. We provide health and care services through functions like health checking for teachers and schoolmates. In addition, we promote public health related issues including World Aids Day and blood donation.
What's more? Youth Unit One has also been focusing on friendship functions, so as to enhance the bond between members and HKRC. A welcome party for new members is held every year. We play games, sing songs and chat throughout the party. Moreover, City Tracing is held by Youth and Volunteer department every year. Members get to know more about HKRC and it surely brings entertainment to all of us.
We have been participating in service activities provided by HKRC, including visiting the elderly, flag-selling, conducting service projects, charity sale, etc. Serving others brings benefits to the needy, at the same time, we develop a sense of belonging to our society. We get to know more about the social problems in Hong Kong like poverty and solitary elders.
After our secondary school life, it does not imply that our Red Cross career has come to an end. Many of the graduated members have joined the Adult Unit, which also provides competitions, trainings, services, friendship functions, etc. Being part of Youth Unit One is one of the most unforgettable and meaningful experiences in one's life, and we hope to bring more colors and life lessons to our members' lives.