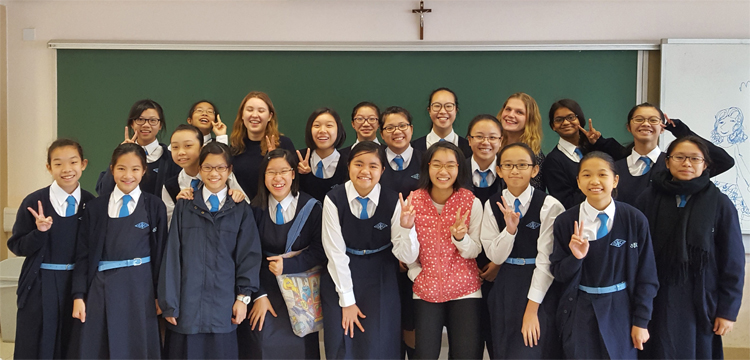 Aims and Directives
The overall aims of the English Language Education curriculum are:
To provide students with opportunities for extending their knowledge and experience of the cultures of other people as well as opportunities for personal and intellectual development, further studies, pleasure and work in the English medium; and
To enable students to prepare for the changing socio-economic demands resulting from advances in information technology; these demands include the interpretation, use and production of materials for pleasure, study and work in the English medium.
The English department aims at:
enhancing students' four language skills of listening, speaking, reading and writing through a learner-centred approach.
promoting critical thinking and encouraging free expression and creativity through use of literary and imaginative texts and discussion of topical issues.
fostering language learning through a task-based approach which engages students in interacting and communicating in the target language and learning grammar through texts.
promoting the development of generic skills e.g. creativity, communication, problem solving and collaboration skills and positive values and attitudes.
promoting Language Across the Curriculum in support of the whole-school language policy through strengthening across-KLA collaboration.
fostering a culture of reading both printed and electronic materials extensively through promoting Reading Across the Curriculum, which help broaden students' knowledge base.
fostering self-directed, lifelong and life-wide learning through the use of the Independent Learning Centre, e-learning and the promotion of a reading culture among students.
facilitating integration and application of knowledge and skills across disciplines through promotion of STEM education.
enhancing learner diversity through adopting a greater variety of teaching and learning strategies.
Teaching Approach
The task-based approach to teaching the language is adopted. Teaching materials are organised into modules that are further divided into units, within which students are engaged in various tasks that help to polish their four language skills. A variety of learner-centred activities are designed and conducted in class to facilitate language learning. E-learning is also incorporated into the curriculum to promote self-directed learning. Learner independence is further enhanced through self-access learning in the Independent Learning Centre and the DEAR reading programme.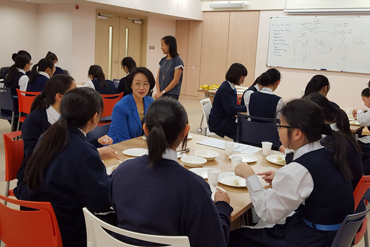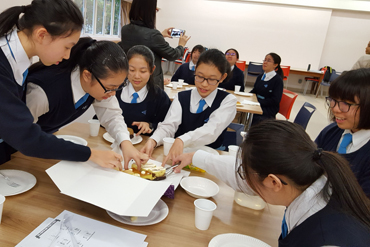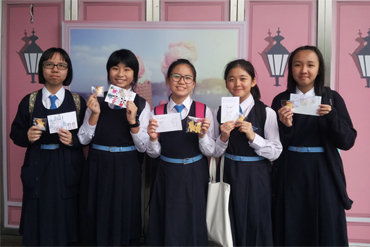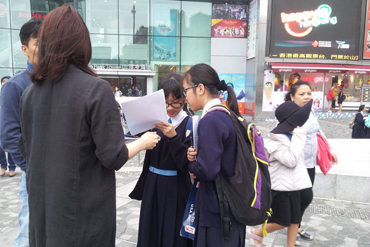 English Learning Activities Held Inside and Outside School
Various learning activities such as experiments, group discussion, information searching in the library and on the web, oral and written presentations, completion of reading and writing tasks, decision-making exercises and project work can help students to develop an ability to use skills and thinking processes associated with the practice of science for understanding and exploring natural phenomena, problem-solving and decision-making.
Students of all levels take part in the Hong Kong Schools Speech Festival.
Students are taken on drama or film outings during which they are exposed to various literary works and performing arts.
Students are engaged in language programmes organised by Standing Committee on Language Education and Research (SCOLAR).
Students are entered into various competitions, for example, debate competitions, public speaking contests, writing competitions, drama fests and radio drama contests.
Students are encouraged to write responses to news articles or express their views on topical issues in local newspapers.
As part of the DEAR reading programme, author's talks are held in school.
Students take part in language-related fun activities organised by the English Club and the NET teacher of the school.
Good writers of English have the opportunity of joining the school publication as editors and reporters.
Senior form students have the opportunity of joining Western Dining Etiquette Classes and Interviewing Skills Workshops conducted by The American Women's Association (AWA).
Form 6 students participate in joint-school English oral practices in preparation for the HKDSE English speaking exams.
High-achieving students are recommended to join programmes for gifted language learners.
Overseas exposure trips are organised to promote understanding of other cultures and language learning by immersing students in a language-rich environment.